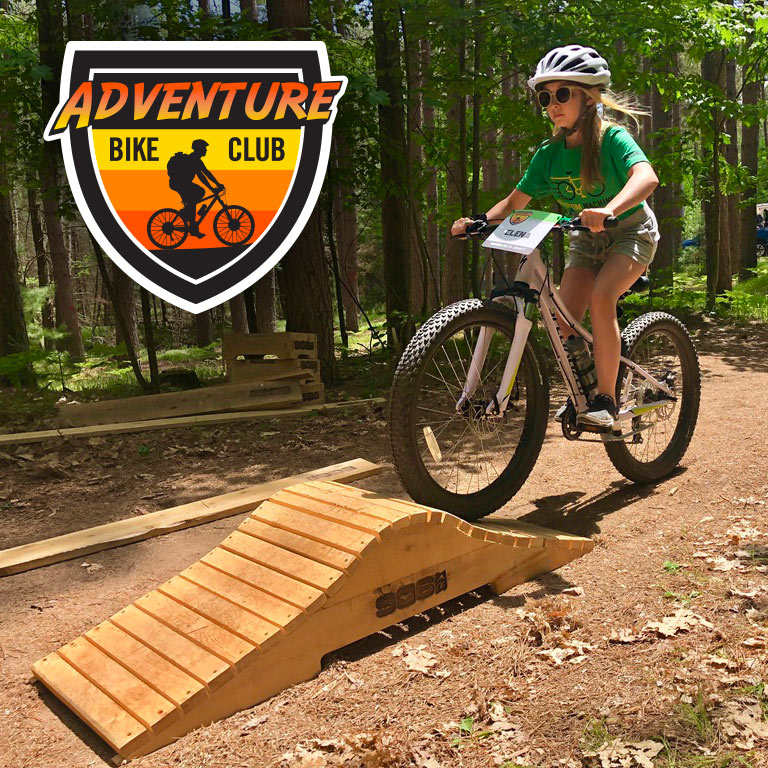 Adventure Bike Club
A great opportunity for your mountain bikers to improve skills, meet new kids, ride new trails, gain confidence, and stay active! By the end of the summer they'll be riding stuff that scared them in June. ABC is ideal for kids who just love riding their bike and hanging out with friends. We offer groups for kids age 5-17. Activities will include drills, an overcoming obstacles course, challenges, and of course lots of trail riding.
ABC Group Leaders go through background checks and training developed by 906 Adventure Team. NICA Group Leaders go through background checks and training provided by NICA. All Group Leaders have completed risk management and concussion protocol training.
Registration
2021 Adventure Bike Club opens May 1 and we expect another year at full capacity, so don't put off registration until another time.
Forms
Once you've completed the registration please download and complete these three documents that all participants need to submit, every year.
Schedule
We post all of our dates and details to  The Adventure Team calendar. It's your source for our upcoming ride times and locations.
A note about weather: Inclement weather may impact our ability to ride, 906AT will notify parents of cancellations via TeamApp.
Parents, grandparents, and guardians can get involved!
We welcome parents to get involved. You can serve as a group leader, help set-up before the kids arrive, pickup snacks, and more. You might be interested in becoming a board member or help with one of our committees. 906AT offers many ways to get involved. Contact the Director of Adventure at: adventurecoordinator@906adventureteam.com
We have demo bikes and scholarships.
906AT wants to remove barriers and reach all kids. Let us know if you need help. Contact us at: adventurecoordinator@906adventureteam.com
Is ABC right for my child?
We get this question a lot – and we have one stock answer. There's only one way to find out! We really can't think of a reason a child shouldn't try ABC, or a reason why they won't like it. Kids love to ride bikes with other kids. They won't be pressured to do things they aren't comfortable doing, and the only competition we encourage is personal competition. Kids are encouraged to improve on what they did the week before, and support other kids to do the same. If you have a middle school or high school child interested in racing we suggest you check out our High School MTB Team.
Bike riding is hard, but they're too busy having fun.
Trust us on this one. Are they going to fall? Yes, and they'll get back up. Coaches encourage kids to try new things, expanding their comfort zone. Kids encourage each other, often times cheering for each other, when trying something new. It can be hard, but they are surrounded by support, and people telling them "You can"!
Who rides with the kids?
We have a solid mix of male and female coaches, many of whom do not have kids in the program. Parents are encouraged to coach but will not be assigned to their child's group.
Volunteer to change a child's life.
Registration for Adventure Bike Club will sell out. We are limited by the number of volunteer coaches we can recruit. If you knew you'd change a child's life, would you volunteer? Good. We guarantee you will change a life. You do not have to be a professional mountain biker. You should be proficient on a bike, know the trails, enjoy working with kids, and review the training we provide. 906AT provides everything: coach backpacks with tools and a first-aid kit, MTB 101 and 201 pocket instruction guides, two-way radios, skill development stations, and support.
Children want someone to listen to their stories, ask how they're doing, and spend time with them. As a coach with 906AT you help create a safe, fun, and active experience for kids to meet new kids, connect with the outdoors, and realize they can do some really cool stuff. The experience develops individual confidence, independence, and physical development.
All information is subject to change. Please contact us for the most current information.
Empowering people to become the best version of themselves through outdoor adventure.
Learn More
When you sign up for the 906 Adventure Team mailing list