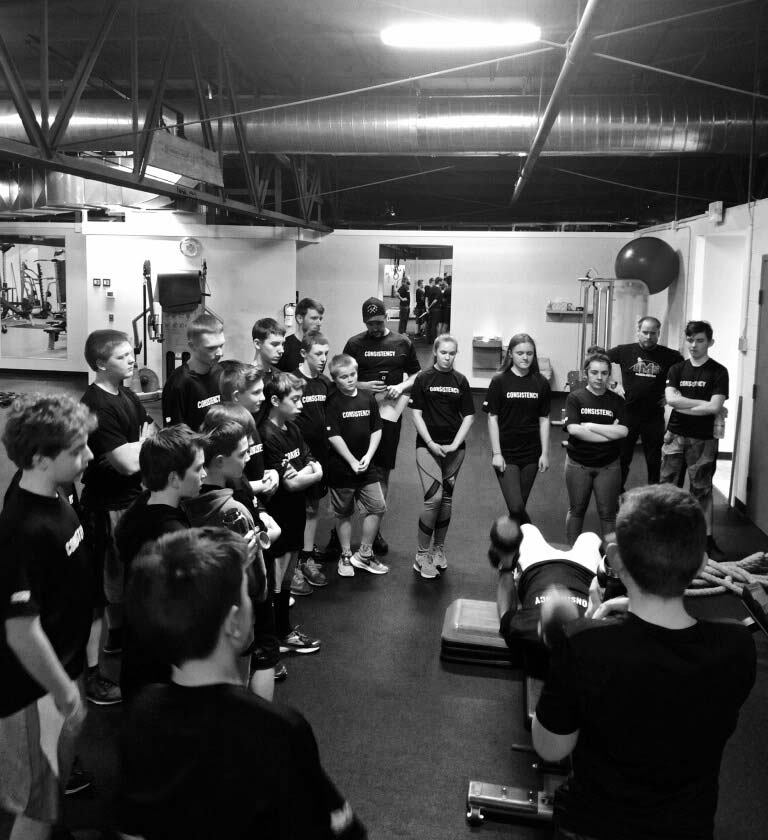 Spring Training is Sold Out
Our season begins in the gym where we work on building strong minds and strong bodies in preparation for the rigors of trail riding. Spring Training goals are aimed at creating lasting change and opportunity for 906 kids:
Get the kids comfortable in a gym setting. Gyms can be intimidating!
Teach the kids gym etiquette. Behavior, respecting equipment etc.
Educate them on proper form and lifting techniques in order to work out safely.
Teach the importance of CONSISTENCY and how it correlates with proper eating habits, exercise, stretching and life habits. We are what we consistently do!
Build confidence, self-esteem and positive self-image through 8-weeks of strength building.
The Program
Our season begins in the gym, building strong bodies, and strong minds, in preparation for Adventure Bike Club, and Youth MTB Racing in the Wisconsin High School Cycling League. Strength training boosts overall health and fitness, creates a cross-training opportunity, and improves self-confidence. Gyms are intimidating. Spring Training removes the intimidation by providing a peer-group activity, in a top-notch personal training studio (Superior Fitness). Trainers focus on: • Creating a comfortable environment where kids can thrive. • Compete against yourself, support each other. • Proper use of equipment and proper exercise form. • Education: pre/post-workout nutrition, warm-up routine, stretching, and more. • The value of "consistency" and how applied, consistent effort over time translates to results in the gym, and in life. Spring Training will last 10-weeks. Our middle school group will focus on fast-paced, intense workouts, leveraging body-weight exercises, intended to develop total-body strength, core strength, and improve cardiovascular endurance. The high school group will focus on much of the same, with additional emphasis on core weight training movements like the bench press, squat, and deadlift.
The coaches
Todd Poquette (Director of Adventure –  906 Adventure Team) & Ryan Craig MS, NSCA-CPT Since an early age Ryan has was obsessed with sports and competition. After his mother noticed a great affinity for the water she decided to let him try out for the local swim team in Escanaba, the Delta Dolphins. Wrestling was next, followed by boxing, BMX racing and football in high school. This led to achieving a Bachelor of Science in Health and Fitness Management from Northern Michigan University. Prior to working at Superior Fitness, Ryan had 3 years of personal training and group exercise leadership experience. He then decided to deepen his understanding of Exercise Science and continued his education in the fall of 2016, earning his Masters of Exercise Science from NMU in 2018. Ryan can be found in his natural habitat flying down the mountain bike trails in Marquette, and Blackrocks brewery apres. Other passions include: hiking, camping, cliff diving, slacklining, snowboarding, former President of NMU's club cycling team, civic activism, playing with his pup, learning, and lounging at the beach!
10 THINGS THAT TAKE 0% TALENT, BUT WILL GAIN 100% RESPECT.
BE ON TIME
BE PREPARED
WORK ETHIC
ENERGY
EFFORT
DO EXTRA
ATTITUDE
BODY LANGUAGE
PASSION
BE COACHABLE
Assesments:
We will record a variety of measurements prior to beginning the 10-week routine. Data will be recorded and compared against measurements taken at the end of the training program. The students will witness what 10-weeks of consistent effort can produce.
Empowering people to become the best version of themselves through outdoor adventure.
Learn More
When you sign up for the 906 Adventure Team mailing list