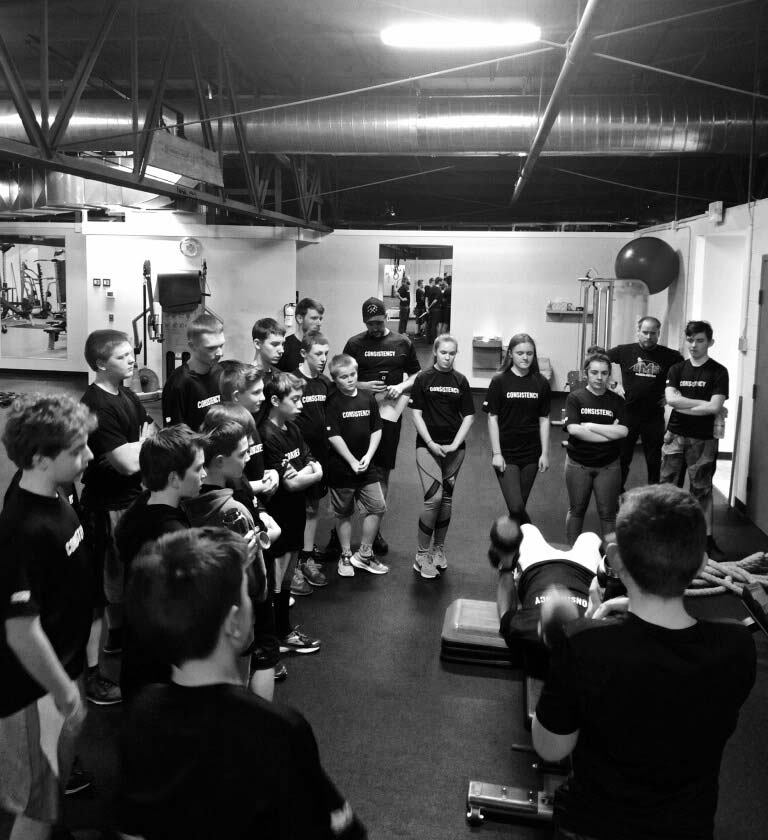 The Plan
Who: Grade 6-12, CO-ED
Days: Monday & Wednesday
Time: 6:30-8:00pm
Block 1: February 24 – March 25, 2020
Take Spring Break off
Block 2: April 6 – May 6, 2020
Pre and Post Assessment
Assessment Tests:

Timed wall sit
Timed forward plank
Timed lateral plank
Standing long jump
Vertical jump
Push ups
Pull up/hang test
One mile bike test
Participant driven extra-effort (at home, Fridays)
Stretching and mobility work
Stationary bike and isomeric exercises (wall sits, planks, posterior chain isometric exercises)
3-4 People per group
Groups determined upon assessment results
Block 1 Goals:
Positive gym experience
Base strength exercise form
Flexibility
Base cardio
Posterior chain postural preventative exercise
Hard work and fun
Block 2 Goals:
Progression of strength to function of power
Build cardio endurance
Isometric endurance
Contributed posterior chain posture exercises
More hard work and fun
Spring Training
Our season begins in the gym where we work on building strong minds and strong bodies in preparation for the rigors of trail riding. Spring Training goals are aimed at creating lasting change and opportunity for 906 kids:
Get the kids comfortable in a gym setting. Gyms can be intimidating!
Teach the kids gym etiquette. Behavior, respecting equipment etc.
Educate them on proper form and lifting techniques in order to work out safely.
Teach the importance of CONSISTENCY and how it correlates with proper eating habits, exercise, stretching and life habits. We are what we consistently do!
Build confidence, self-esteem and positive self-image through 8-weeks of strength building.
The Program
Our season begins in the gym, building strong bodies, and strong minds, in preparation for Adventure Bike Club, and Youth MTB Racing in the Wisconsin High School Cycling League. Strength training boosts overall health and fitness, creates a cross-training opportunity, and improves self-confidence. Gyms are intimidating. Spring Training removes the intimidation by providing a peer-group activity, in a top-notch personal training studio (Superior Fitness). Trainers focus on: • Creating a comfortable environment where kids can thrive. • Compete against yourself, support each other. • Proper use of equipment and proper exercise form. • Education: pre/post-workout nutrition, warm-up routine, stretching, and more. • The value of "consistency" and how applied, consistent effort over time translates to results in the gym, and in life. Spring Training will last 10-weeks. Our middle school group will focus on fast-paced, intense workouts, leveraging body-weight exercises, intended to develop total-body strength, core strength, and improve cardiovascular endurance. The high school group will focus on much of the same, with additional emphasis on core weight training movements like the bench press, squat, and deadlift.
Participants will have access to Superior Fitness's facility during all evenings during the week while the program is in session, limited to locker rooms and the front half of the gym.
Superior Fitness and NMU intern Austin will assist Liam with some workouts and the program will be supervised by Ron Berry.
$25 from every registration will be donated by Superior Fitness to the 906 Adventure Team to help empower people to discover the best version of themselves through outdoor adventure.
10 THINGS THAT TAKE 0% TALENT, BUT WILL GAIN 100% RESPECT.
BE ON TIME
BE PREPARED
WORK ETHIC
ENERGY
EFFORT
DO EXTRA
ATTITUDE
BODY LANGUAGE
PASSION
BE COACHABLE
Empowering people to become the best version of themselves through outdoor adventure.
Learn More
When you sign up for the 906 Adventure Team mailing list