Leading Adventure Summit
Leading Adventure Summit
When: April 23rd or April 24th, 8AM-4PM. Registration limited to 100 volunteers each day.
Where: Barrel + Beam, 260 Northwoods Rd, Marquette, MI 49855
Why: The Leading Adventure Summit is an opportunity for new and returning Leaders to complete their training in-person over the course of one day. Sessions may include hands-on activities, discussions, and the opportunity to learn from other Leaders both within and outside of your community.
Schedule:
8-8:45AM Check in, light breakfast, and social time
8:45-9AM: Welcome and Housekeeping
9-9:50AM Keynote A: 906AT Background and Culture presented by Todd Poquette
10-10:50AM Operations presented by Tara Gluski and Tom Bergman
11-11:50AM Abuse Prevention presented by Tiffany Tibbitts and Amy Maus
12:30-1:15 PM Lunch and Keynote B: Mindsets presented by Todd Poquette and Julie Cunningham
1:15-1:50 PM Risk Management presented by Tiffany Tibbitts
2-2:50 PM First Aid presented by Abigail Prentice
3-3:50 PM Rides presented by Todd Poquette
5 PM Optional Social Gathering, Barrel + Beam*
*Social offered Saturday only for all participants.
Session Descriptions:
Culture – Keynote
This session will focus on how we do things and why it's important. You will learn how the mindsets and attitudes we develop at a young age influence the way we see ourselves, and influence our lives. You will walk away with a deeper understanding of the organizational philosophy and commitment to creating community through shared experiences.
First Aid
This session will introduce Leaders to Adventure Team policies and procedures for responding to both minor and major medical responses, Emergency Action Plan, and Incident Reporting.
Risk Management
This session focuses on keeping riders, family members, and Leaders safe during Adventure Team events. You will learn Adventure Team risk management policies and cover minor athlete abuse prevention.
Mindsets – Keynote
Fixed mindset. Growth mindset. Adventure mindset. Self-supported ethos.
Operations
This session covers the nitty gritty of running a consistent and efficient program. You can expect to learn about equipment such as station boxes and signage, adventure leader backpacks, nameplates, two-way radio operation, and Team-App. You will also cover the what and why of basecamp layout.
Rides
This session provides a basic framework from which you can conduct your group rides. You will learn about the ride checklist, ABCD bike check, trail etiquette, and skill-related terms. You should walk away with an idea of what your group rides will look like.
Abuse Prevention
This session provides information about 906 AT Minor Athlete Abuse Prevention Policies, signs of abuse, and mandated reporting requirements.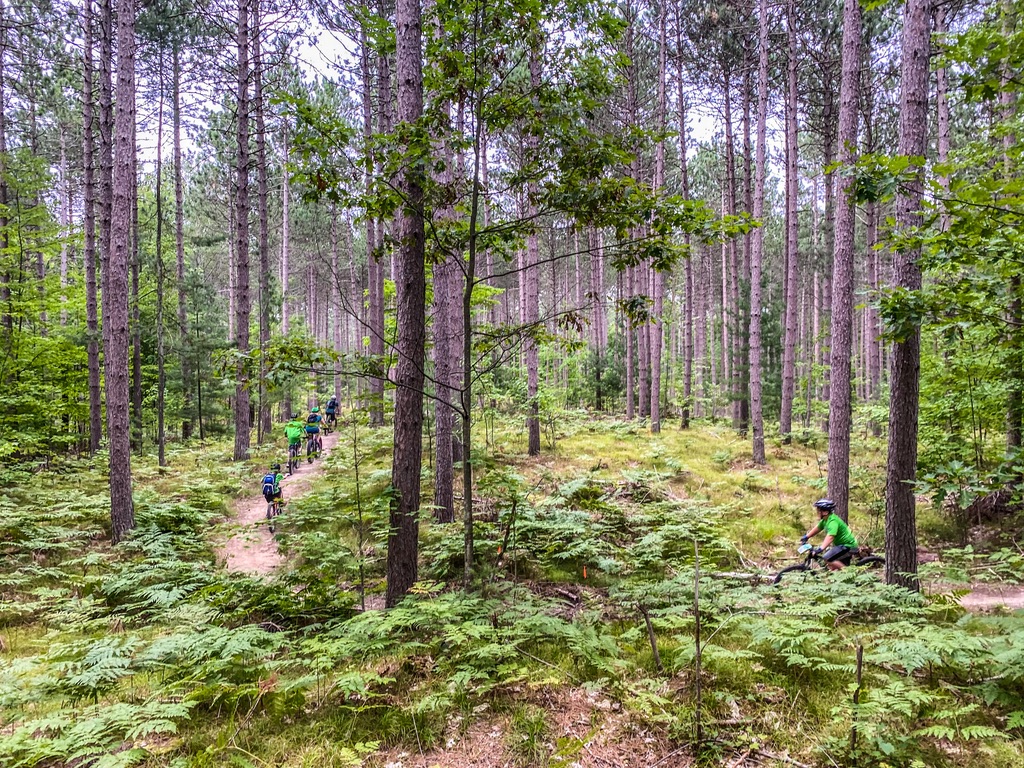 Adventure Team On the Bike Skills Clinic
When: Saturday, April 23, 2022, 9:00AM-NOON, or, Sunday April 24, 2022, 9 AM – Noon
Where: TBD
Why: This clinic is an opportunity for new and returning Leaders to learn and develop the on the bike skills you might teach your group of riders. You will become familiar with the progression of skill development, strategies to support rider's growth, and tips for creating a positive atmosphere in which riders feel comfortable doing hard things.
FREQUENTLY ASKED QUESTIONS
Q: How can I help?
A: We are always looking for Group Leaders, Sweeps, and Rovers to ride in the middle. We also need volunteers to set-up, tear down and keep an eye on basecamp while the groups are out on the trail.
Q: What is the commitment?
A: Select one of the volunteer roles (Group Lead, Group Sweep, Rover, Basecamp). If your community rides one day a week we ask that you attend all of the rides, unless you're on vacation. If your community rides twice a week, pick a day or do both. The commitment is really up to you, but we'll be counting on you to be there every week once you pick a day.
Q: How experienced do I have to be?
A: You can be experienced or brand new. We'll train you. We need leaders who are willing to show up and be a role model for the kids. If you're inexperienced but love working with kids, we'd love to have you on our team.
Q: What kind of training is offered?
A: 906AT offers volunteers two options. You can attend the Leading Adventure Summit or complete the training online (or do both). We also offer OTB (On The Bike) Skills for Leaders, so you know how to teach the skills we'll focus on this summer. Anyone interested in leading Race Team groups will also need to complete in-person or online training required by the National Interscholastic Cycling Association.
Q: Is this a race program?
A: This is an Adventure Program. We have a race team for middle school and high school riders interested in competing. Generally speaking 90% of our program is full of kids of every age who simply love to ride bikes with other kids.
Q: Do kids who don't want to race ride with kids who do?
A: No. We strive to offer every rider the ride experience they seek. Kids focused on racing need to be pushed harder, go farther, and "practice" race specific skills. Adventure Bike Club (ABC) is the right path for kids who view cycling as a fun social activity. Adventure Bike Team (ABT) is new this year and reserved for kids who want to go faster and farther but are not interested in racing. Adventure Race Team (ART) is for kids specifically interested in racing.
Q: Is there a cost?
A: We are constantly working toward offering training and support to volunteers at no cost. If cost is a concern, please feel free to contact us for more information.
Q: Who can I talk to if I'd like more information?
A: Email Tara at: adventurecoordinator@906adventureteam.com