REDEFINING COMMUNITY

Every community has a group of men and women, weekend warriors, recreational riders, adventurers, parents, grandparents, and kids who need an Adventure Team. Despite a wide range of backgrounds, ages, interests, and perceived complexities, we all want the same basic things… human connection, sense of purpose and belonging, and an opportunity to test ourselves without the constant pressure of performative analysis. We are more alike than we are different. Sure, some communities are bigger, some have more money and get more attention, but we're all the same. By "we" we mean people. Communities are a sum of their parts and while we may look different, have different names, and live in different places… at the core we want and need the same thing. Connection. Purpose. Belonging. Hope.
PROGRAMS AT A GLANCE

Brown County, WI


Delta County


Eau Claire County, WI

Gogebic County

Iron County

Marquette County

Midland County

Attendance Requirement


80%

80%

80%

80%

80%

80%

80%

Ride Day(s)

Thursdays (ages 5-17)




Thursdays (ages 5-17)

Tuesdays (ages 5-17)

Wednesdays (ages 5-17)

Thursdays (ages 5-17)

Mondays (ages 5-8) Thursdays (9-17)

Mondays (ages 5-17)

Orientation Date

5/26

5/21

5/17

6/8

6/2

5/23 and 5/26

5/16

First Ride

6/9

6/16

6/14

6/22

6/16

6/13 and 6/16

6/13

No Ride

n/a

n/a

n/a

n/a

n/a

7/4 and 7/21

7/4

Final Ride

8/18

8/11

8/23

8/17

8/25

8/22 and 8/25

8/22

Primary Basecamp

Reforestation Camp

Days River Pathway

—

**Orientation at Delta Chamber of Commerce**

Lowes Creek County Park

Miners Memorial Heritage Park

Klint Stafford Memorial RV Park

Tourist Park

Midland City Forest

Alternate Basecamp

7/4 and 7/24 Carson Park

7/20 and 8/10 Winman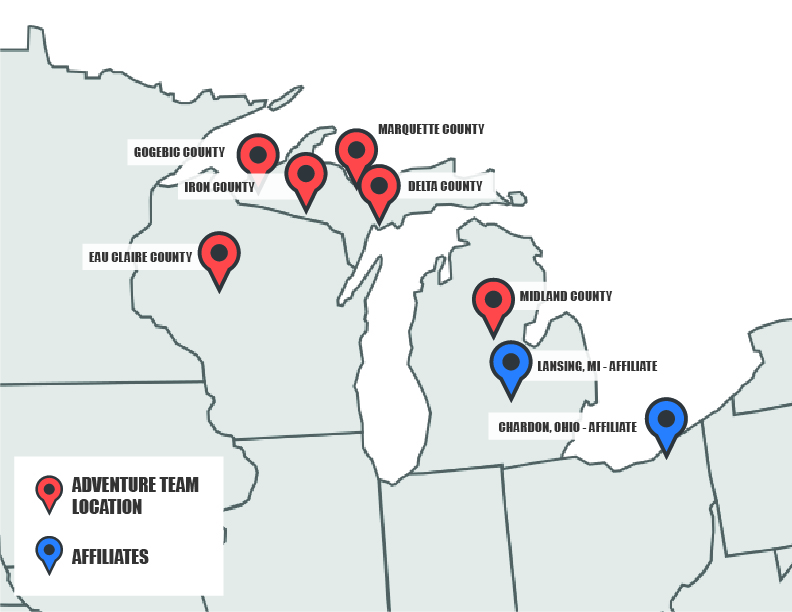 PERSONAL COMPETITION AND COLLABORATION
Adventure Teams create a space where youth compete against themselves. We're not keeping track of wins and losses or assigning value with the traditional good, better, and best approach. By emphasizing development of the human, we create a more cooperative space and positive experience for all. There's a level of ownership that develops when everyone focuses on the same task – the pursuit of continued self-improvement. Every youth and volunteer leader aspires to the same personal goal… being a little better than they were the day before.
SCHOLARSHIPS AND LOANER BIKES

We have funds available to support youth and families. If you need scholarship assistance, please contact Tara at adventurecoordinator@906adventureteam.com.
Loaner bikes are available on a limited basis. First priority will be given to youth who require a bike to participate. If your child does not have a bike, or if you are unsure if your child is on an adequate bike to ride mountain bike trails, please reach out to Tara at adventurecoordinator@906adventureteam.com . She will add you to the list and we will review all requests after registration has closed.
ATTENDANCE REQUIREMENT

Why do we have a requirement? It is to ensure that every spot is filled by youth who will show up. We will review exceptions on a case-by-case basis.
ADVENTURE BIKE CLUB, ADVENTURE BIKE TEAM, ADVENTURE RACE TEAM

Marquette County is the only community offering Adventure Bike Club (ABC), Adventure Bike Team (ABT), and Adventure Race Team (ART). Think of Marquette as the goal: to work with 50-100 kids per night two nights a week. Youth age 5-8 ride one night (Adventure Bike Club) and youth age 9-17 ride the other (Adventure Bike Team). It provides everyone an opportunity to "graduate" from the club to the team.
The Adventure Race Team is Marquette only. We do not plan to form race teams in other communities at this time, but we'll give you a basic overview of what it is and how it works.
We formed a race team in 2016, before Adventure Bike Club existed. We realized (quickly) that most of the kids joined the team just so they could ride bikes with other kids. Barely a third of the kids on the team actually wanted to race. If you have ever tried leading a group of kids with vastly different goals on a group ride you've probably learned what we did: no one was getting the ride experience they wanted. The fast kids were constantly waiting, and the other kids were on a death march. We went back to the drawing board feeling we could do better.
Today, ABC and ABT are for the kids who don't want to race and ART is reserved for those who do. ART is performance focused. ART riders will be expected to attend at least three races. ART riders will be expected to attend practice twice a week. Practices will focus on race specific skills and strategies. Outside of practice, ART riders will be expected to do solo rides to maintain and build fitness.
There are other requirements such as registering your rider with the Wisconsin High School Cycling League, paying race fees, purchasing a team jersey, and making sure your rider has the gear we require them to have during every practice and at every race (multi-tool, tire lever, tubs, pump, chain tool, water bottles, nutrition, etc.). All of this will be covered in a post registration meeting with parents.